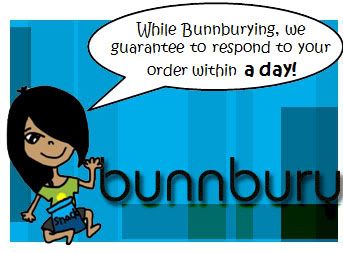 Shipping Information
Standard Shipping (Local) - $1.50 for first piece, add $0.50 for each additional piece.
Registered Shipping (Local) - add $2.24 on top of your total bill and normal shipping fee
(Registered mail is encouraged for fast delivery and traceability)
If you are not located in Singapore or would like to deliver overseas, please enquire at
bunnbury@gmail.com
.
For
FREE Normal Shipping
(Unlimited Pieces), join the Bunnbury Mailing List by filling your email address in the form below.
*(Note, we will never release your email to external parties.)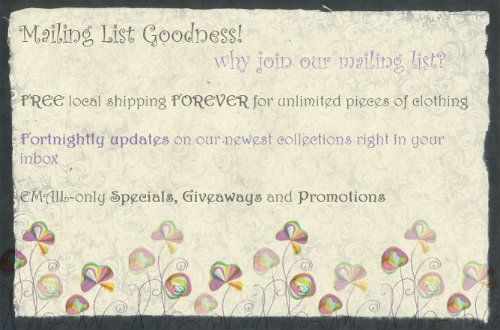 Payment Information
After making your orders, please give us up to a day to respond with your invoice.
Upon receiving your invoice, please transfer the invoice amount to
POSB Savings 110-21480-4
within 24 hrs to secure your item(s).
You can make payment via paypal however admin charges will not be borne by Bunnbury :) (Please inform us should you wish to pay via Paypal for us to generate the invoice to you)
(Please make payment only after you receive the invoice as confirmation of stock availability)
An email will be sent when your order is shipped out 1 - 2 days after payment is made.
Return & Exchange Policy
All Sale item(s) cannot be returned for exchange or refund.
Exchanges will apply only if we ship the incorrect items to you.
(However we do check all items!)
If you exchange for an item of a lower pricing, any excess will be refunded. So, if you choose an item of higher pricing, please do a top up!
Exchanges must be confirmed within 7 days of invoice date. Please mail back the item(s) to us and we will mail the new item back to you. We will cover the postage cost, so please ensure that you pack and seal the item(s) properly before mailing back to us!
Most importantly, do inform us before sending anything back, don't shock us!
Drop any enquiry with us at
bunnbury@gmail.com
.
For business or product related enquiries, we will stop bunnburying to respond to you within 24 hours.
You can also
Visit
our
Facebook Page
for sneak previews and fun updates!
To place your orders via the Order Form, please fill up all compulsory fields (with red star) and click the 'Submit Order' button on the bottom left. An e-invoice would be emailed to you before payment.

First ordered, first served. Start your purchase now!

-Your Bunnbury Team-
Powered by

EMF
Forms Builder
Report Abuse